Click here if you are having trouble viewing this message.


INDUSTRY UPDATE AUGUST 2019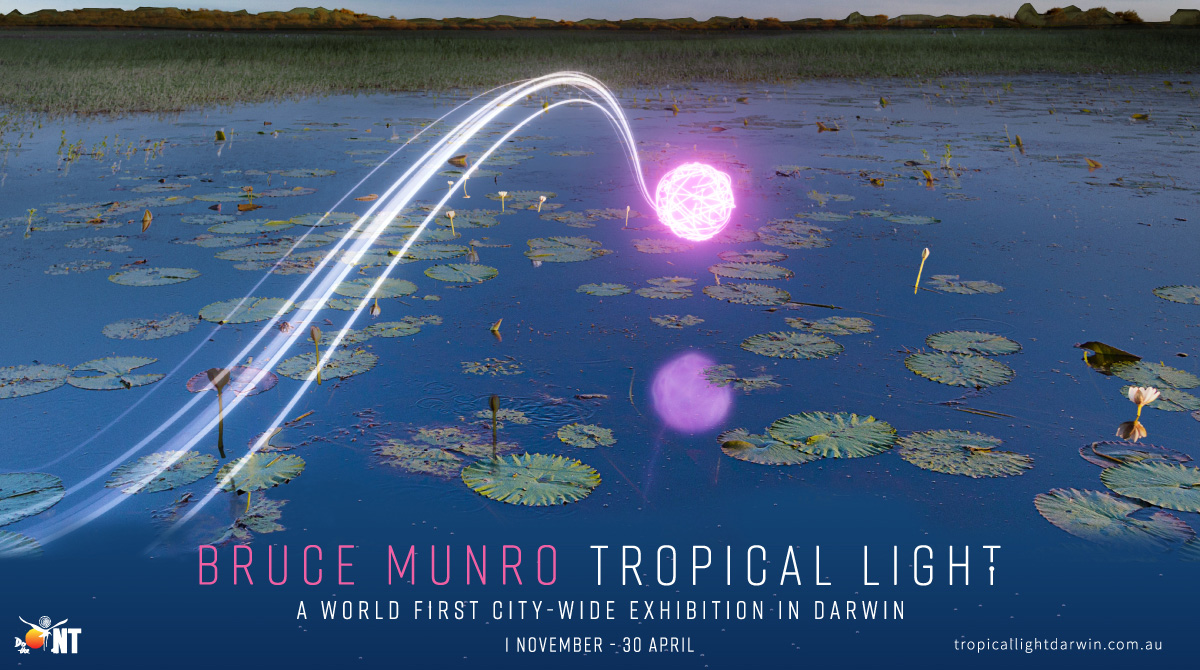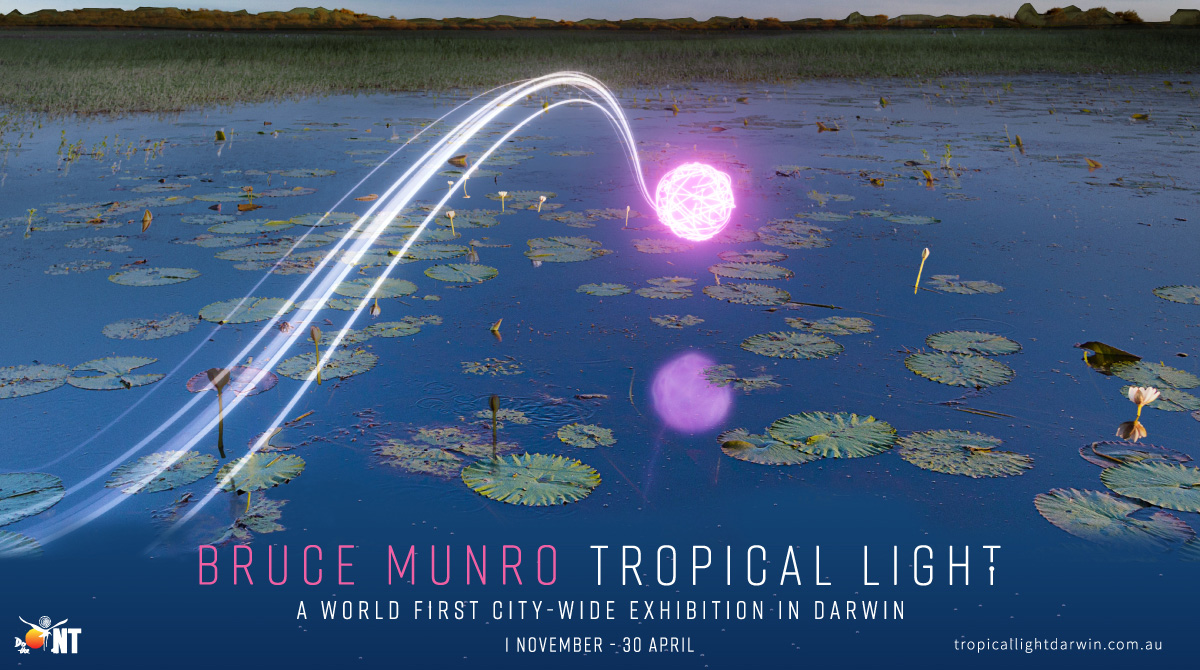 TROPICAL LIGHT NATIONAL CAMPAIGN
With just over two months until Bruce Munro: Tropical Light opens in Darwin, NT Major Events Company have launched a national marketing campaign - 'Follow the Light'.
The print and digital campaign will create awareness and encourage visitors to experience the world first, city-wide exhibition and 'Follow the Light' to visit other iconic locations around the Territory.
If you would like access to official Bruce Munro: Tropical Light marketing assets email tourism.development@nt.gov.au
2019 SIGNATURE SERIES
Tourism NT has joined up with Hospitality NT for the 2019 Signature Series program with more than 50 NT inspired dishes and drinks from venues throughout the Territory promoted on www.northernterritory.com
JABIRU TO BE TOURISM HUB 
Jabiru is set to become a major tourism hub within Kakadu National Park after a historic MOU was signed in August.
TERRITORY FLIGHTS ON SALE
In August Tourism NT partnered with Qantas to deliver an eight day sale focused on promoting travel to the Territory. The campaign targeted domestic travel intenders with attractive price points to Alice Springs, Darwin and Uluru, and encouraged visitors to immerse themselves in the highly desirable and adventurous experiences on offer in the Territory.
CRUISE SHIP BONANZA
Two cruise ships are returning to Darwin bringing over 5,000 passengers, providing a welcome injection to the economy and an opportunity to showcase the best the Top End has to offer to an international audience.
The Pacific Dawn is returning on 31 August with over 2,000 passengers staying overnight. The Majestic Princess arrives on 10 September bringing over 3,500 passengers.
For more information regarding the cruise sector visit www.tourismnt.com.au or contact cruise.darwin@nt.gov.au
VALUE OF TOURISM IN THE NT 
In 2017/18 total tourism Gross Value Added (GVA) in the NT on average was worth $2.2 billion, supporting an estimated 17,100 jobs.
INDUSTRY SENTIMENT
The Industry Sentiment Poll report for the June Quarter 2019 has been released for the Top End and Centre regions. The report provides a look into the NT's tourism environment from the operator's perspective.
SEA DARWIN ON BOARD
Sea Darwin is on board with Bruce Munro: Tropical Light with the creation of the first themed bookable product 'Tropical Light; Unplugged Twilight Cruise' available from November 2019 to March 2020.
If you want to know more about how you can leverage interest in the exhibition, visit www.tourismnt.com.au
TROPICAL LIGHT FOR RETAILERS
Darwin City & Waterfront Retailers Association will host a Bruce Munro: Tropical Light retailers briefing on 29 August from 5.30pm-7.00pm at the Galleria. Find out how you can promote your business by connecting with Tropical Light, what opportunities and resources are available and how you can leverage the national campaign.
TROPICAL LIGHT FOR TOURISM
Join the next Bruce Munro: Tropical Light industry briefing to hear updates on the 'Follow the Light' national campaign, the low season campaign and trade partner marketing activity. Local businesses will also provide first-hand accounts of their experience in developing dedicated products. Held 4 September from 10.00am-11.30am at Novotel Darwin.
TRADE EVENTS TO SHOWCASE NT
Territory tourism experiences, attractions and destinations will be showcased to domestic and international trade operators at several events over the next month.
BROLGA AWARDS SUBMISSIONS
We had a chat with Annabel Curtain from Katherine Outback Experience about the Brolga Awards submission process. Annabel discusses how applying for a Brolga Award helped her business gain an understanding of business excellence and how the judges feedback during the process provided the building blocks to success.
RED CENTRENATS THIS WEEKEND
All roads lead to Alice with Australia's ultimate festival of wheels, Red CentreNATS, shifting into top gear for the 2019 instalment this weekend.
DESERT FESTIVAL 2019
Presented by Red Hot Arts Central Australia, the 2019 Desert Festival is an exposition of dynamic events encompassing local and interstate theatre, music, arts and performance.
DesFest will run over seven weeks from 29 August to 12 October 2019 presenting a smorgasbord of local and interstate talent.
DARWIN STREET ART FESTIVAL
The Darwin Street Art Festival is returning for a third year, with 15 city walls to be transformed into masterpieces by nationally and internationally acclaimed street artists in September.
This email has been sent by Tourism NT and you have received this email because you subscribed to Tourism NT industry updates.
Department of Tourism, Sport & Culture, Tourism NT
GPO Box 1155, Darwin NT 0801
Click here to unsubscribe or to change your Subscription Preferences.