Click here if you are having trouble viewing this message.

INDUSTRY UPDATE JUNE 2019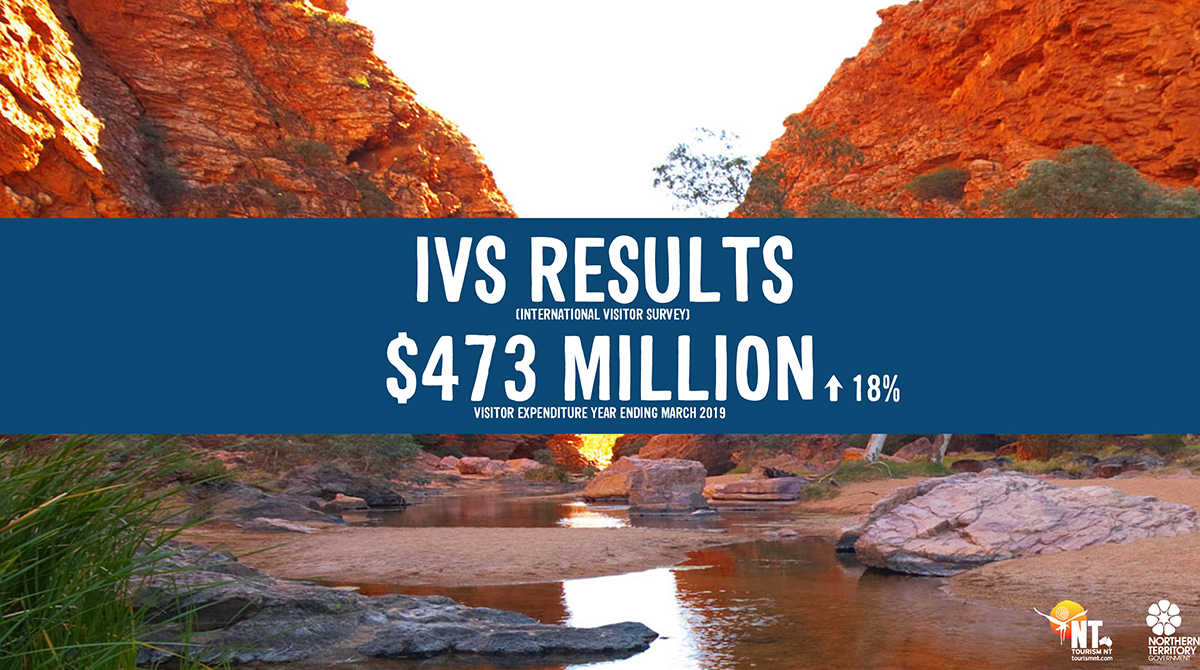 INTERNATIONAL VISITOR NUMBERS
In good news for the Territory's tourism industry, international visitor numbers for the quarter ending March 2019 were 297,000, up 4.2 per cent on the previous year. International visitor expenditure for the same period was $473 million, up 18 per cent, with the average spend per person up 13 per cent to $1,592. 
MILLENNIAL CAMPAIGN
This month Tourism NT launched a campaign to promote the NT to Australian Millennials. It includes engaging content in channels Millennials respond well to including Spotify, Pedestrian TV and YouTube, promoting the NT as an 'Instagrammable' destination. Nine of Australia's favourite Millennial social media influencers have been busy producing and sharing content from across the Territory.
MILLION DOLLAR FISH
Tourism NT took the Territory to the Melbourne Boat Show to promote Season 5 of the Million Dollar Fish competition. Almost 1000 anglers interested in fishing the NT registered for the competition. Celebrity fisherman Paul Worsteling from IFISH presented a Q&A on catching barra, and promoted the competition to his 600k+ social media followers. A Melbourne family won a holiday to the NT, including airfares, two nights' accommodation at The Cav Hotel, a Barefoot Fishing Safaris charter and Shimano fishing pack.
NEW QANTAS ROUTE
Qantas will base two Fokker-100 aircraft in Darwin later this year, creating local jobs. The planes will fly the Darwin to Alice Springs route, plus a new direct route between Darwin and Broome. The new Broome service, which begins on 27 October 2019, will be Qantas Group's fourth new NT route in the past 12 months, underpinning its focus on tourism investment in the NT. 
MORE DONGHAI FLIGHTS
Donghai Airlines will boost its twice-weekly service between Shenzhen and Darwin by one additional weekly flight over a four-week period. The additional flights will operate on 19 and 26 July, and 2 and 9 August 2019, creating an additional 432 seats for the route.
BRIEFING SESSION ONLINE
Tourism NT, NT Major Events Company and Tourism Top End recently held a Bruce Munro: Tropical Light industry briefing session to discuss how operators and businesses can leverage the interest a Bruce Munro exhibition brings. You can now watch the briefing online. Email us if you have created a Bruce Munro: Tropical Light product you'd like to share.
NEW RETAIL SPACE
Crocosaurus Cove and Matt Wright, Explore the Wild have joined forces to open a new shop on Mitchell Street in Darwin's CBD. The combined space is a tourism hub where people can learn more about Territory wildlife and book local tours, as well as purchase crocodile products from Crocosaurus Cove's new Arley Rae Australia brand and Golden 8 Crocodile Oil Skincare.
APPLICATIONS OPEN
Tourism Australia's flagship trade event in China, previously the Greater China Travel Mission, has been rebranded as Australia Marketplace China. The event will take place in Chengdu, China, from 11 to 15 November. The program includes pre-scheduled meetings between buyers and sellers, plus networking events. It is an opportunity for representatives from the Australian tourism industry to establish business relationships with key qualified travel agencies and tour operators from China, Hong Kong and Taiwan.
VISA CHANGES
From 1 July 2019, the number of Work and Holiday visas available to Singaporean citizens aged 18-30 will increase from 500 to 2,500 per year.
$500 INCENTIVE
The Bruce Munro: Tropical Light exhibition will run from 1 November 2019 until 30 April 2020. In good news for retailers, Activate Darwin is offering a matched funding incentive of up to $500 for the activation of store windows in the CBD to promote the exhibition (subject to conditions). The scheme will operate on a first in, first served basis with a capped funding allocation available. For access to Tropical Light marketing material, including window dressings and ideas, email Tourism NT.
CRUISE SHIP ALERT
Bruce Munro: Tropical Light will take place during Darwin's peak cruise season. As ships generally depart by 6pm, Tourism NT is working with cruise lines to extend their stay in port so passengers can experience Tropical Light during the evening. Email us if you have created a Tropical Light product suitable for the cruise market.
GRANTS PROGRAM
Qantas Group has launched a $5 million Regional Grants program over five years for Australian-based, not-for-profit community groups, individuals, charities, projects and organisations seeking funding to provide a service or benefit to regional Australia. At least one recipient will be awarded funding in each state or territory every year.
BROLGA AWARDS WORKSHOPS
In conjunction with Tourism Top End and Tourism Central Australia, Tourism NT is running Brolga Awards introductory workshops and a 'nominate now' workshop.
NRL IN TOP END
The Parramatta Eels will take on the Canberra Raiders this Saturday at TIO Stadium. National sporting events are a huge drawcard for interstate fans keen to follow their team, and provide a boost to our tourism industry. Eels players arrive today, and the Round 15 clash will kick off at 7.05pm local time on 29 June. Tickets available now.
AFL IN RED CENTRE
Alice Springs is set to benefit from an influx of AFL fans in July when the Red Centre hosts the Round 18 match between the Melbourne Demons and West Coast Eagles. The Demons will take on the Eagles at Traeger Park on Saturday, 21 July. Tickets available now. This year marks one decade of the NT Government working with the Demons to secure games in the Territory.
REV HEADS READY
Rev heads will flock to Alice Springs in August when Australia's ultimate festival of wheels rolls in to town on Friday, 30 August. The 2019 instalment of Red CentreNATS, which will run until 1 September, is anticipated to be bigger and better, with the addition of a new 'Heavy Hitter' drag racing feature category and the biggest 'Burnout Masters' field in Australia.
EVENT GUIDE OUT
Activate Darwin distributed 18,000 event guides to businesses across the Darwin CBD this week. The guide, which will be issued quarterly, lists all the happenings around town.
This email has been sent by Tourism NT and you have received this email because you subscribed to Tourism NT industry updates.
Department of Tourism, Sport & Culture, Tourism NT
GPO Box 1155, Darwin NT 0801
Click here to unsubscribe or to change your Subscription Preferences.